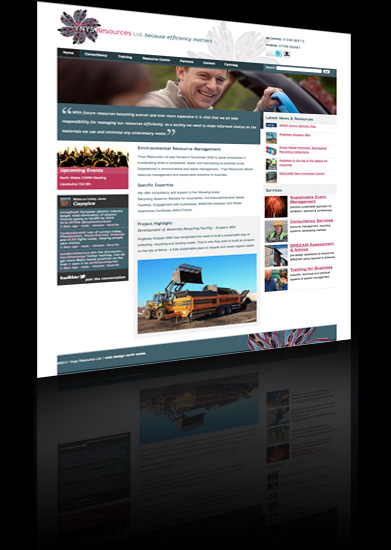 Ynys Resources
"Because Efficiency Matters" - Ynys Resources provide consultancy services and support for sustainable resource management. Areas of expertise include: Business Development Markets for Recyclables, Recycling and Waste Infrastructure Development, Training in Resources Management and sustainability, BREEAM Assessor (audit service and bespoke advice from interim design to post construction).
A finalist in the Free2Network Green Business Awards, Ynys Resources help businesses save time and money and help the environment by using their resource better and recycling more of their waste. They have a strong focus on helping businesses become more knowledgeable through training and consultancy services, and also by sharing useful information about events, policy changes, new technologies, government initiatives etc.
The new website helps deliver this relevant information about Sustainability and resource management and the benefits to businesses and organisations, an outline of services and case studies describing practical solutions as well as links to useful online resources.
The Ynys Resources graphic styling has been based around the company logo (designed by L29 Creative). The motif within the logo was created by Lily Coley (Rebecca's sister), an artist who uses found objects and craft techniques in her work. The image is a collage comprising a circular kaleidoscope effect, the composition bringing to mind the delicate butterfly wing or an arial view of a salt marsh.
By using this motif Ynys Resources focus on the human side of resource management where practical techniques and holistic viewpoints encourage businesses to be more sustainable and take responsibility for their impact on the environment. This also allowed us to move away from the conventional 'eco' green palette and develop the styling around the muted blue grey accented with dusky pink creating a more modern and professional feel.
The site is powered by Expression Engine which enables the client to keep their clients and partners up to date with the latest policy changes and news by updating all the content themselves. It also gives us completed design control over how the pages are laid out and styled and has allowed us to include categorised content; making organising news stories and resource centre content really easy.