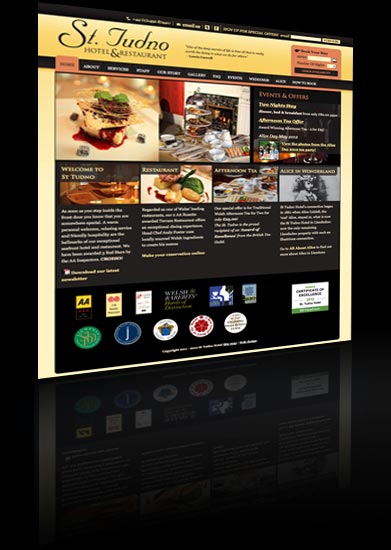 St Tudno Hotel & Restaurant
We were ask to redesign the St Tudno Hotel website to help the business to engage with a wider customer base, improve branding awareness, promote special offers, events, new menus, and advertise the hotel's unique Alice in Wonderland connection.
The St Tudno is luxury boutique hotel on a seafront setting with pool, private garden and AA rosette restaurant. The main audience group were over 40 pre and post-retired couples. In order to improve conversion rates it would be important that the design should deliver text readability and an easy to use interface. The hotel wanted to increase the number of family guests within the school holidays and younger couples on short breaks. Promotion of family friendly aspects of the hotel and friendly and open marketing would attract these groups.
The real Alice Lidell stayed in the St Tudno with her family when she was 8 years old, the age at which the Alice stories were created. This role in Llandudno's Alice in Wonderland connection is a key part of the hotel's brand. The proprietor has a has a collection of books and memorabilia about the real Alice, and passion for the subject which he needs little prompting to share. The Alice connection would be a unique opportunity to engage with Alice enthusiasts across the globe.
We partnered with L29 Creative to develop the visual design and FLJ Media on the content to ensure the visual design and words matched the branding and style of the business and were in line with the sales and marketing strategy. On going FLJ Media has worked with the hotel promoting the Alice events through the press and and social media.