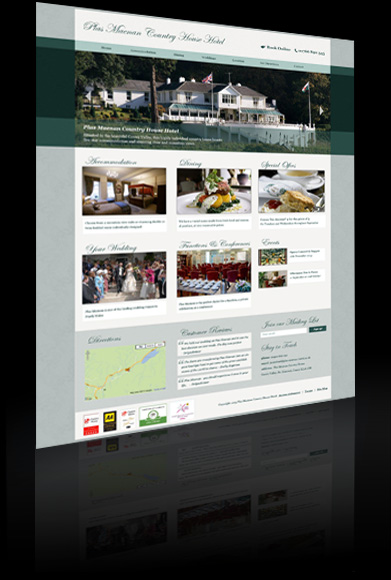 Plas Maenan Hotel Refresh
We originally created the Plas Maenan website in 2006. The design was influenced by the light and airy Edwardian styled interior. In need of an update, we refreshed the design to convey elegance and luxury consistent with the hotel's growing reputation.
We took this opportunity to incorporate up to date techniques and styling enhancements in line with the expectations of today's web users. Examples of techniques and approaches included:
Webfonts - We used webfonts with 'real' text for the titles (rather than using graphics). This is good for accessibility, makes it easier to do simple text changes and can reduces bandwidth needed to view pages.
Responsive design - This will ensure all users have a good experience whatever device they are using. It will mean that, ongoing, the site will adapt to future web technologies - this is sometimes known as being future proof (a rather clumsy phrase but one which is illustrative if you take it with a pinch of salt!).
CSS3/HTML5 - CSS3 rules allowed us to add visual and interactive elements without using images or scripting which impacts positively on performance across devices and technologies. We also changed the structure of the page content from XHTML (as it is currently) to HTML5 elements which also improves future compatibility with new technologies.
Photographic banners – Engaging customers with nice photography of the hotel's interior, gorgeous location and food from the restaurant etc.