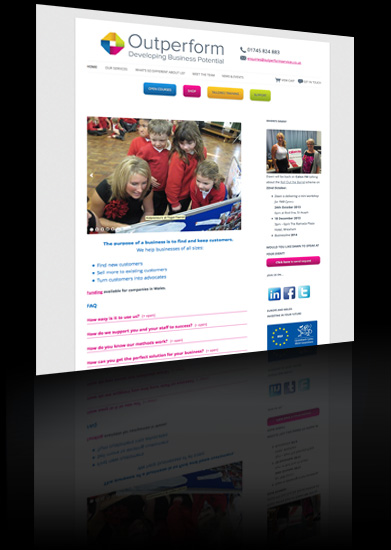 Outperform Training & Coaching
Outperform are a sales training company delivering sales courses, bespoke training and business coaching to businesses in North Wales and across the UK.
When we spoke to Outperform about updating their website, they had lots of ideas but were unsure of how their existing website could do what was needed. Key objectives included allowing customers to book on courses direct, buy supporting resources and get information they need quickly and easily. They were happy with their new logo (designed by Worldspan Creative) and styling but needed a platform that could deliver their objectives.
We chose to use Wordpress for the refreshed site as it is easy to use, flexible and a robust platform for ongoing developments. The team were already using Wordpress.com so were familiar with the interface. It also allowed us to integrate the existing Outperform blog into the new website.
The existing logo, typeface, photos, videos and vibrant colour scheme match the company's passion, high energy and straight talking style. Using these elements we tailored the template to put across the right message. We created a child template of the Wordpress template 'TwentyTwelve'. This responsive template was a great starting point allowing us to focus on the core requirements of the project.
Ongoing we have been working with Outperform to manage the site, include new content, updates and developing features such as their new product catalogue for sales training CDs and resources.
"I just wanted to say thank you for all your help with the website it looks great and your flexible approach has meant it was a pretty seamless transition to get where we wanted to be.

We particularly liked the fact that you were highly responsive, adaptive to last minute changes, requirements and also committed to finding solutions to meet our needs even if they were unusual requests. This has resulted in us getting a website that absolutely meets our needs, reflects our personality and contains unique aspects. Thanks Kate"
Dawn Roberts, MD Outperform