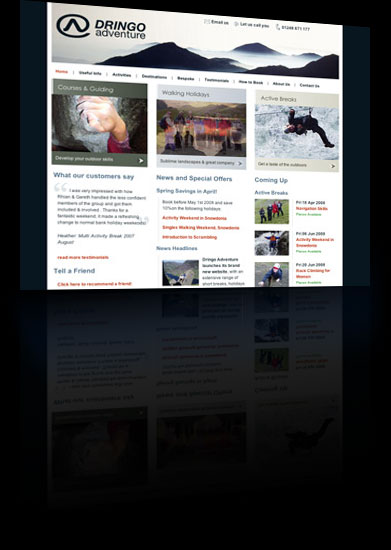 Dringo Adventure
Dringo Adventures is a partnership business specialising in outdoor activity short breaks, holidays and courses. Courses are run by a team of highly qualified instructors and are tailored to match the needs of the participants. The locations are carefully chosen to offer the best of the great outdoors in the UK and Europe.
We developed the look and feel for the company identity to reflect the excitement of the holidays and courses, with a friendly and approachable tone and yet has an underlying professionalism implying a quality of service, knowledge and experience.
Photographs were a strong selling point for the activities and, since Dringo were already managing a Flickr account, we included a flickr badge on each page using keywords to pull in related photos.
In order to match customers to a suitable product, organise the site into three main sections or mini sites, making it easier for the audience to find what they want and guiding them towards the required action; making an enquiry or booking online. Displaying upcoming/featured breaks on the homepage and link to related products helped promote the holidays to the required audience.