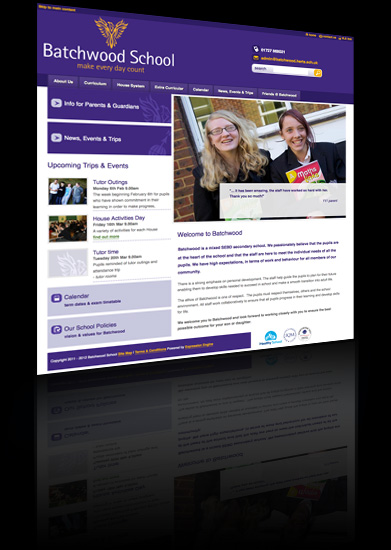 Batchwood School
Batchwood School is a school for secondary aged pupils with social, emotional and behavioral learning difficulties. The team at Batchwood School had been working internally, developing the teaching and support capacity and working to improve the achievement levels.
Ready to address Batchwood's external focus, the management team commissioned us to develop their website and marketing materials. The main aims were to provide a platform engage with parents and the community, a showcase to promote the school and it's activities and achievements and provide quick and easy access to school policies, reports and curriculum information.
The site structure and content was informed by the expected requirements of the main site user groups and stakeholders. Key information such as important info for parents, news and important dates, are prioritised on the home page. Urgent notifications, such as school closure due to snow, can easily be added to the home page and other main pages. Galleries, articles, news and events can all be added easily to the site.
We chose to use Expression Engine to manage content as it allows full customisation of how web pages look, in terms of layout, styling and design, and complete control over how the content is organised.
To make sure the web site visuals and styling matched the brochure and other marketing materials we worked closely with Sarah Norman Graphic Design who designed the new logo and brand graphics, and produced signage, the school badge, brochure and stationary.
The web design is a responsive layout. Using media queries to send specific styles to browsers with different screen widths, the content can be readable on different devices from smart phones to wide screens.