What we do

We can offer a suitable package to suit your specific needs and budget. Please get in touch to find out more
Design and front end development
We create websites using web standard HTML5 and CSS and enhance page functionality using other technologies such as JavaScript.
Accessible pages will be constructed with web standard HTML5, well-structured semantic content and careful consideration of design elements to ensure readability and usability
Design of page layouts and styling of heading levels and other text and graphic elements will be implemented using web standard CSS.
Additional technologies such as JavaScript and Flash may be used where appropriate to the design and to improve usability.
Updates and content management
We can look after your site updates for you or you can have a fully updateable Content Management System. The choice of CMS would depend on the requirements of your project. We'd advise using Expression Engine for larger projects that require features such as related content, categorised content and searches. We also work with Wordpress for blogs and Web4-u for tourist businesses.
Are you a tourist business or organisation?
Your Tourism Community provides a framework for tourism business to work together promoting the local area to the visitor with a set of tools that allow business to share information, including website creation and broadcasting to community members [Web4-u] and booking online [Bookings4-u]. This allows you to take control of your marketing and increase exposure to your tourism business.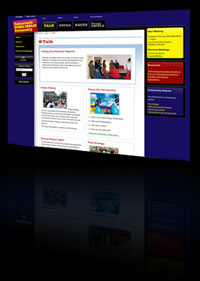 Accessibility and Accessible Design
Using web standard technologies also means web pages that are accessible to a wide range of internet users. Production of accessible sites that comply with the Disability Discrimination Act (DDA) is essential for public and government bodies. But for any business it's important to be accessible to as many people as possible, not only from a legal point of view, or indeed a moral standpoint, but from a business one too.