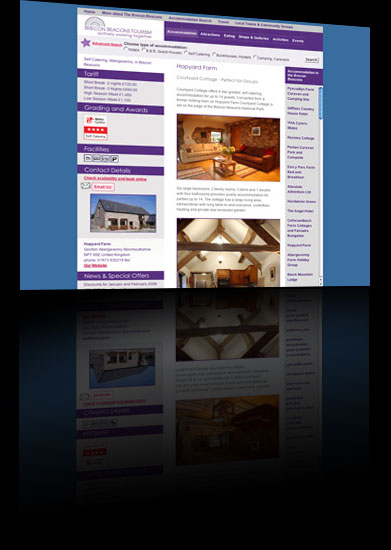 Brecon Beacon Tourism Listings
This web4-u listings website features an activity search and a section to promote business in specific towns. As with all web4-u websites the content is managed by the business owners.
Brecon Beacons Tourism, the tourism association in the Brecon Beacons has 100 members, all tourism businesses. After an initial workshop/presentation there were 4 members on web4-u. This number has increased so now the majority of members are on the system.
We worked closely with Punch Maughan from BBT to ensure the site met the brand guidelines and provided the functionality required by the members. An enthusiastic association member Punch has been instrumental in the process of creating content and encouraging the members. This is what the she said about the project:
Both my committee and members are delighted with the website and many members are beginning to develop their own web4-u websites in order to make best use of the system ...

I cannot commend Kevin Jones and his team more highly for the speed with which they developed the site, their attention to detail as the site was going live and their ongoing engagement
visit the site: www.breconbeaconstourism.co.uk